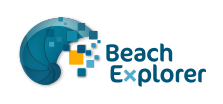 Kvalitet kontrol
About beginners, intermediates and experts
In BeachExplorer portal we distinguish between three groups of users: "beginners" with limited species knowledge, "intermediates" with good species knowledge and "experts" with advanced competence and the ability to identify most species.
Three classes of complicacy
The different kinds of beach finds are categorized into three groups as well. Class 1 finds can be reported by all users. If class 2 or class 3 finds are reported by a beginner, the records must await clearance by intermediate (class 2 finds) oder expert users (class 3 finds).
Skill-based classification
Users with a score of more than 500 points are classified as "intermediates". Experts must have collected at least 2000 points. Users have no entitlement for upgrades after reaching these score limits. The operator can deviate from this system in well-founded cases.
Clearances as common task
In the interest of all users clearances of pending reports shall take place as soon as possible, at the latest within one week. The support of intermediates and experts who check and clear these finds is highly appreciated as very helpful contribution to quality assurance in BeachExplorer.
Many thanks to you all!
Denne side blev ikke endnu oversæt til dansk. Hvis du kan og vil hjælpe, du er inviteret at sende overættelsen til info@beachexplorer.org