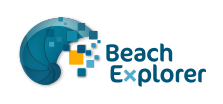 Beachcombing
Seashells and more found at the shoreline
BeachExplorer unites the informations about finds on the beach from a broad variety of determination books. It offers a comfortable and costless alternative to complicated species identification keys.
Beachcombing for a living
The search for seashells and other finds from the beach is a widespread passion. The sanderling, a little bird from the wader family does beachcombing professionally and spends it's whole life at the waterline in search of food.
Also many human coastal inhabitants earned their living through centuries with finds from the beach. Already in prehistoric times beached whales served as source of flesh and lamp oil. Baltic amber was a valuable trade good over millennia. Still today beached algae serve as fertilizers or as base for food additives at some coasts of western Europe.
Beach finds caused by mankind
With growing sea traffic beached goods from stranded ships increased in importance as valuable source of income. Lost goods and ship wrecks were sought after by official beach wardens and by a nameless army of beachcombers who competed in stormy nights fort the most valuable share of the bounty. Today man-made beach finds are predominantly litter in sometimes large amounts and even hazardous substances like oil, toxins and ammunition.
Fun with beachcombing
Natural beach treasures attract many locals and tourists who enjoy the multitude of species and objects washed ashore. Often it's not easy to identify the beautiful seashells. Identifying all kinds of beach finds requires a lot of different determination books and comprehensive knowledge of biological terms.
The BeachExplorer is designed to facilitate easy picture-based identification of about 2000 different items that can be found at the Northsea coast. On top of this every find can be reported to a database to support coastal research. This is possible online as well as offline via cost-free apps for all systems of smartphones. Every user can document own finds by picture uploads and contribute in this way to a growing collection of maritime photos.
Enjoy beachcombing with your BeachExplorer!