Welcome to BeachExplorer-website
All records
23333 Records
1924 User
News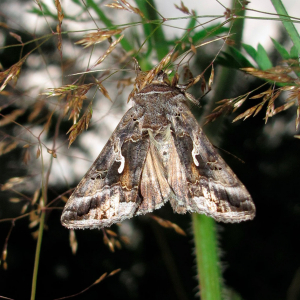 17. Jul: A hovering moth...
17. Jul:
A hovering moth resembling a hummingbird and rushing from flower to flower is the Silver Y. This medium sized grey moth belongs to the large family of owlet moths and bears a Y-shaped mark on each forewing. The Silver Y is active at day and night and can be seen everywhere at the moment. The species winters in southern Europe and flies northward in spring, sometimes up to Iceland. The hungry caterpillars eat everything green (except politicians) and can develop in two generations until autumn. Then up to four times the number of moths that came in spring fly southward again for hibernation. Like the migratory birds the Silver Y is an eternal wanderer.
Excursion dates
Educational material
Marine protection
Beach experiences - where and when?
To excursion dates
Guided beach excursions with explanations of biological facts and coastal protection topics are offered all along the coast. A list of places, providers and excursion dates can be found here:
School material
More...
Free education material on Wadden Sea and North Sea is being developed. Already available are work sheets and teacher's material for our "Strandforscher"-program for primary schools (in german only).
Marine protection
More...
Here you find background informations about biology and protection of Wadden Sea and North Sea.