Welcome to BeachExplorer-website
All records
22638 Records
1791 User
News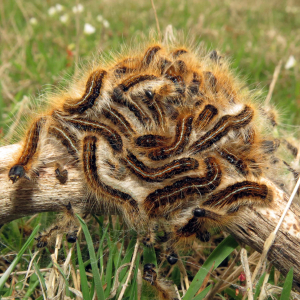 23. May: A furry bunch of brown...
23. May:
A furry bunch of brown hairy caterpillars is a typical find in coastal saltmarshes at the end of may. These are the caterpillar nests of the thermophilic Ground lackey moth. Only about 20 years ago this specis has reached the Waddensea coast - possibly arriving from english salt marshes. The caterpillars spend their first weeks sociably on a commonly spun silk carpet. They feed on different herbs like Sea aster, Sea arrowgrass or Sea plantain. The older caterpillars live individually and tend to develop blueish markings. The adult moths fly in july and leave egg clusters on plant stalks, from which new caterpillars hatch in next spring.
Excursion dates
Educational material
Marine protection
Beach experiences - where and when?
To excursion dates
Guided beach excursions with explanations of biological facts and coastal protection topics are offered all along the coast. A list of places, providers and excursion dates can be found here:
School material
More...
Free education material on Wadden Sea and North Sea is being developed. Already available are work sheets and teacher's material for our "Strandforscher"-program for primary schools (in german only).
Marine protection
More...
Here you find background informations about biology and protection of Wadden Sea and North Sea.