Welcome to BeachExplorer-website
All records
24894 Records
2086 User
News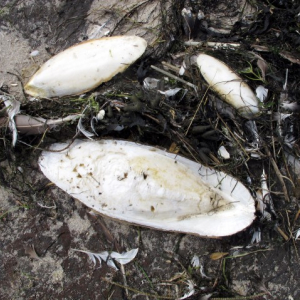 4. Oct: Some owners of pet birds...
4. Oct:
Some owners of pet birds are surprised to find oval white chalk plates washed ashore as they know them from pet shops where they are sold as supplementary bird food. The plates are backbones of cuttlefish. Cuttlefishbones stay adrift for months and reach the Waddensea originating from France or England. Seabirds like pecking the cuttlefishbones and leave their bill marks on them. Usually the bones stem from the Common cuttlefish which may reach 40 cms in size. Smaller backbones may be from rarer southern cuttlefish species. Living cuttlefish are hardly ever found in the Waddensea, the reason is unclear.
Excursion dates
Educational material
Marine protection
Beach experiences - where and when?
To excursion dates
Guided beach excursions with explanations of biological facts and coastal protection topics are offered all along the coast. A list of places, providers and excursion dates can be found here:
School material
More...
Free education material on Wadden Sea and North Sea is being developed. Already available are work sheets and teacher's material for our "Strandforscher"-program for primary schools (in german only).
Marine protection
More...
Here you find background informations about biology and protection of Wadden Sea and North Sea.