Welcome to BeachExplorer-website
All records
16640 Records
1062 User
News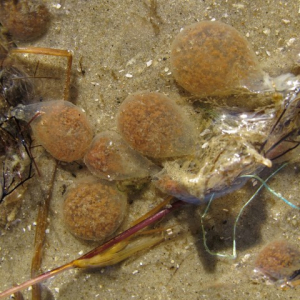 1. Mar: Small reddish balls of mucus on the waddensea floo...
1. Mar:
Small reddish balls of mucus on the waddensea floor indicate the approach of spring. Each gelatinous ball contains about 100,000 eggs of the gill-wearing thread worm (Scoloplos armiger). Each ball has been produced by one female and several males in a sleepless night. Egg balls of different colour origin from the red thread worm (brown), the spotted paddle worm (green) or the gallery worm (yellow). Birds do not eat the egg balls as warming them up in the guts costs more energy than the balls deliver.
Excursion dates
Educational material
Marine protection
Beach experiences - where and when?
To excursion dates
Guided beach excursions with explanations of biological facts and coastal protection topics are offered all along the coast. A list of places, providers and excursion dates can be found here:
School material
More...
Free education material on Wadden Sea and North Sea is being developed. Already available are work sheets and teacher's material for our "Strandforscher"-program for primary schools (in german only).
Marine protection
More...
Here you find background informations about biology and protection of Wadden Sea and North Sea.