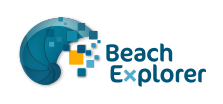 About BeachExplorer
Three countries, one Waddensea
Many interesting things are washed ashore on the beaches of the Waddensea, but no one recorded so far, what has been found. Furthermore there was often no exchange between Waddensea regions about peculiarities found on the beaches. This lack of exchange was repeatedly noticed in the network of Waddensea educational centres "International Wadden Sea School" (IWSS) founded in 2003.
Citizen Science – everyone can join in

Since smartphones and internet are available, carrying a library of determination books is not necessary any longer. Everyone can identify seashells and other marine stuff using the picture based identification key of BeachExplorer. On top of this all observations can be reported and documented with pictures.
The idea of digital "Citizen Science" arose around 2006 and is developing rapidly since then. Nature observations from all over Germany are collected by our partner naturgucker.de but there was no such tool for beaches and seas.
One has to do the work
In 2007 Schutzstation Wattenmeer e.V. from Schleswig-Holstein took the responsibility to develop and implement a waddensea-wide trilateral internet portal for all kinds of finds on the beach. Together with Lighthouse Foundation, a foundation dedicated to marine protection, Schutzstation Wattenmeer developed the concepts in cooperation with IWSS and rose the necessary funds. Starting in 2012 the BeachExplorer came into being.
Species diversity as federal task
In 2012 the necessary funding for implementation of the BeachExplorer was granted by Bundesprogramm Biologische Vielfalt. Further very helpful support came from Bingo-Umweltlotterie Schleswig-Holstein. The aim of BeachExplorer is to open a new access to nature observation for as many people as possible and to enhance their understanding of marine protection.
Beachexplorer is also available as mobile App. Continue here to app download.
Technical informations about BeachExplorer are available here