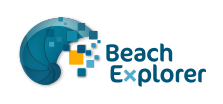 Score system
Start with a guess
During the initial phase of the BeachExplorer the value points for reported sightings rely on experience and estimated abundancies. Only at an advanced state when thousands of records will be available a statistic calculation of relative "values" will be possible.
Different countries, different points
As some species are unevenly distributed in the North Sea, different point values were fixed for records from six different geographical regions: The Netherlands, Lower Saxony & Hamburg, Schleswig-Holstein, the Danish Wadden Sea, the west coast of Danmark and the Kattegat.
Definition of point values:
1 point
everywhere very abundant
probably present in more than 80 % of the southern North Sea
sometimes more than 10,000 specimens per 100 m of coastline
example: Common cockle
2 points
everywhere abundant
probably present in more than 70 % of the southern North Sea
often more than 1,000 specimens per 100 m of coastline
example: Blue mussel
3 points
almost everywhere, usually abundant
probably present in more than 60 % of the southern North Sea
often more than 100 specimens per 100 m of coastline
example: Softshell clam
4 points
widely distributed, sometimes abundant
probably present in more than 50 % of the southern North Sea
often more than 10 specimens per 100 m of coastline
example: American piddock
5 points
only locally distributed, usually single specimen
probably present in more than 40 % of the southern North Sea
rarely more than 10 specimens per 1,000 m of coastline
example: Oval piddock
6 points
only 5 - 10 squares of this region with records, usually single specimen
probably present in more than 30 % of the southern North Sea
rarely more than 1 specimen per 1,000 m of coastline
example: Variegated scallop
7 points
always single specimen, recorded in not more than 4 squares of this region
probably present in more than 20% of the southern North Sea
rarely more than 1 specimen per 1,000 m of coastline
example: Sand slug
8 points
very rare, recorded in not more than 3 squares of this region
probably present in more than 10% of the southern North Sea
always single specimen
example: Poorly ribbed cockle
9 points
only 1 or 2 records from this area
probably present in less than 10% of the southern North Sea
always single specimen
example: Mediterranean striped mussel
10 points
no records so far from this area
example: Manila clam