Welcome to BeachExplorer-website
All records
29063 Records
2658 User
News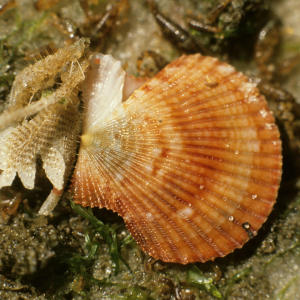 11. Feb: Strong westerly storms...
11. Feb:
Strong westerly storms bring many things ashore that have drifting at sea for months or years and have been colonized by marine creatures. Barnacles, bryozoans, or small polyps often live on drifting wood or litter. in plastic fish boxes that are washed ashore regularily somethon special can be pound with a bit of luck: young scallops. Specimen of up to 3 cms size can be attached to drifting objects, especially inside buckets or fish boxes.
Excursion dates
Educational material
Marine protection
Beach experiences - where and when?
To excursion dates
Guided beach excursions with explanations of biological facts and coastal protection topics are offered all along the coast. A list of places, providers and excursion dates can be found here:
School material
More...
Free education material on Wadden Sea and North Sea is being developed. Already available are work sheets and teacher's material for our "Strandforscher"-program for primary schools (in german only).
Marine protection
More...
Here you find background informations about biology and protection of Wadden Sea and North Sea.